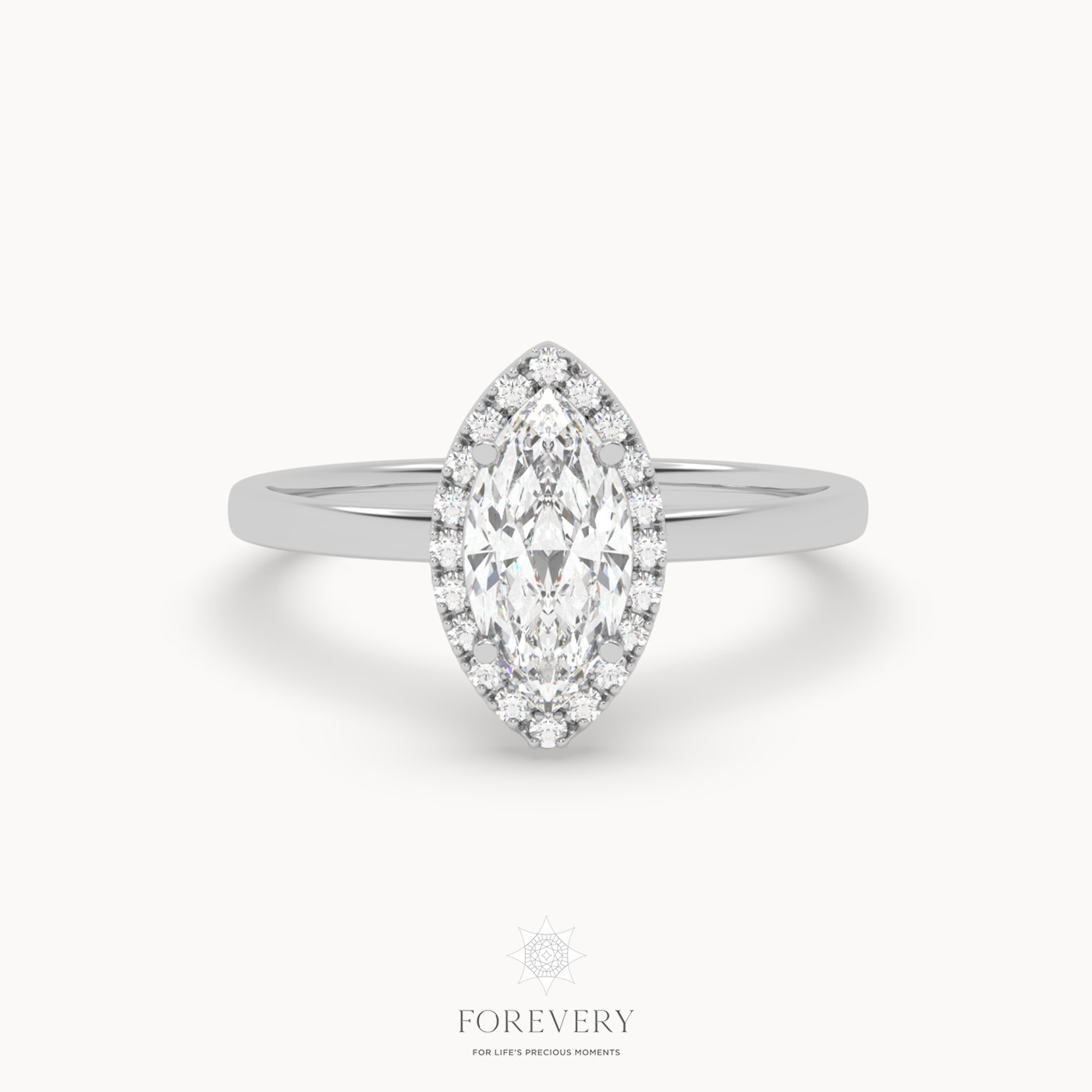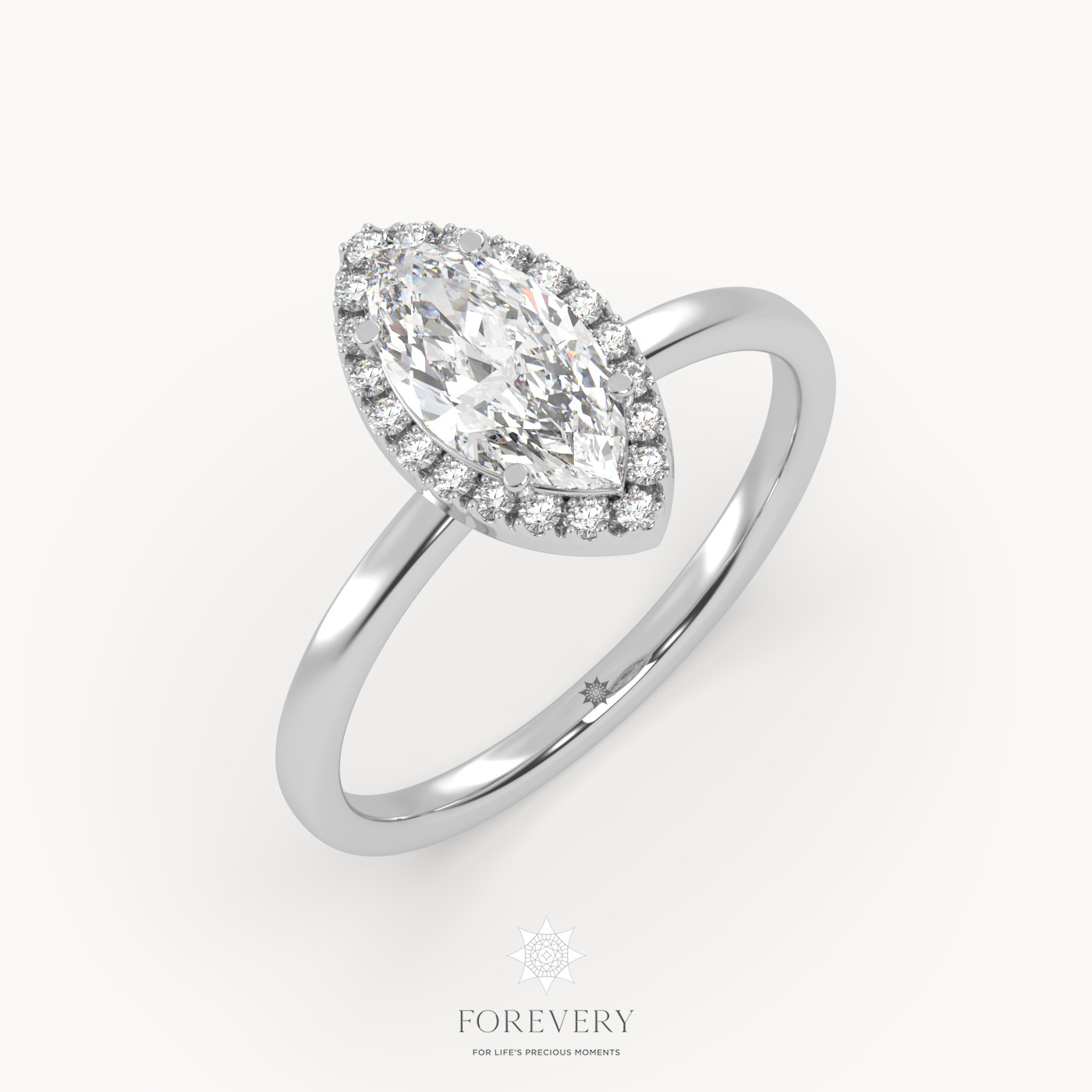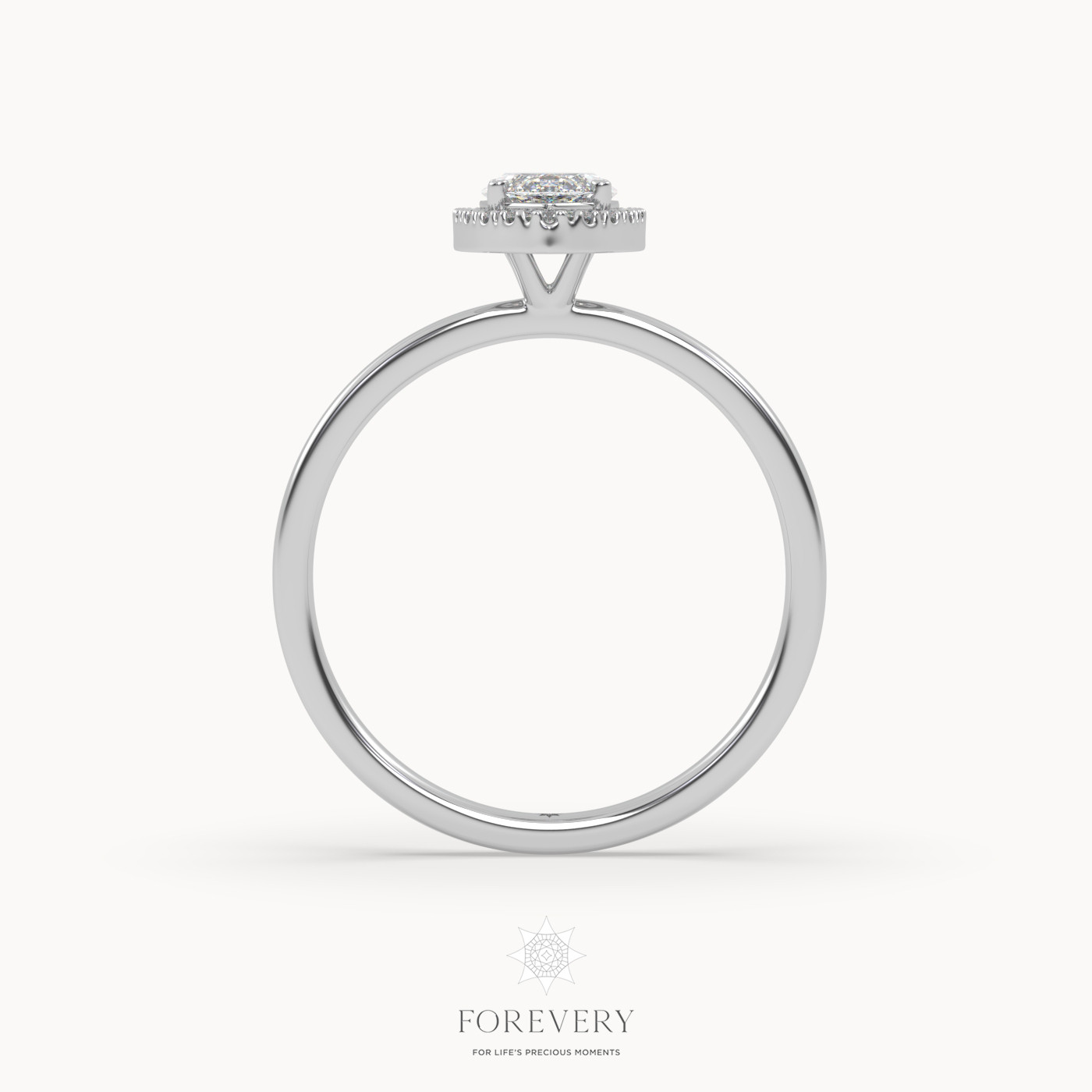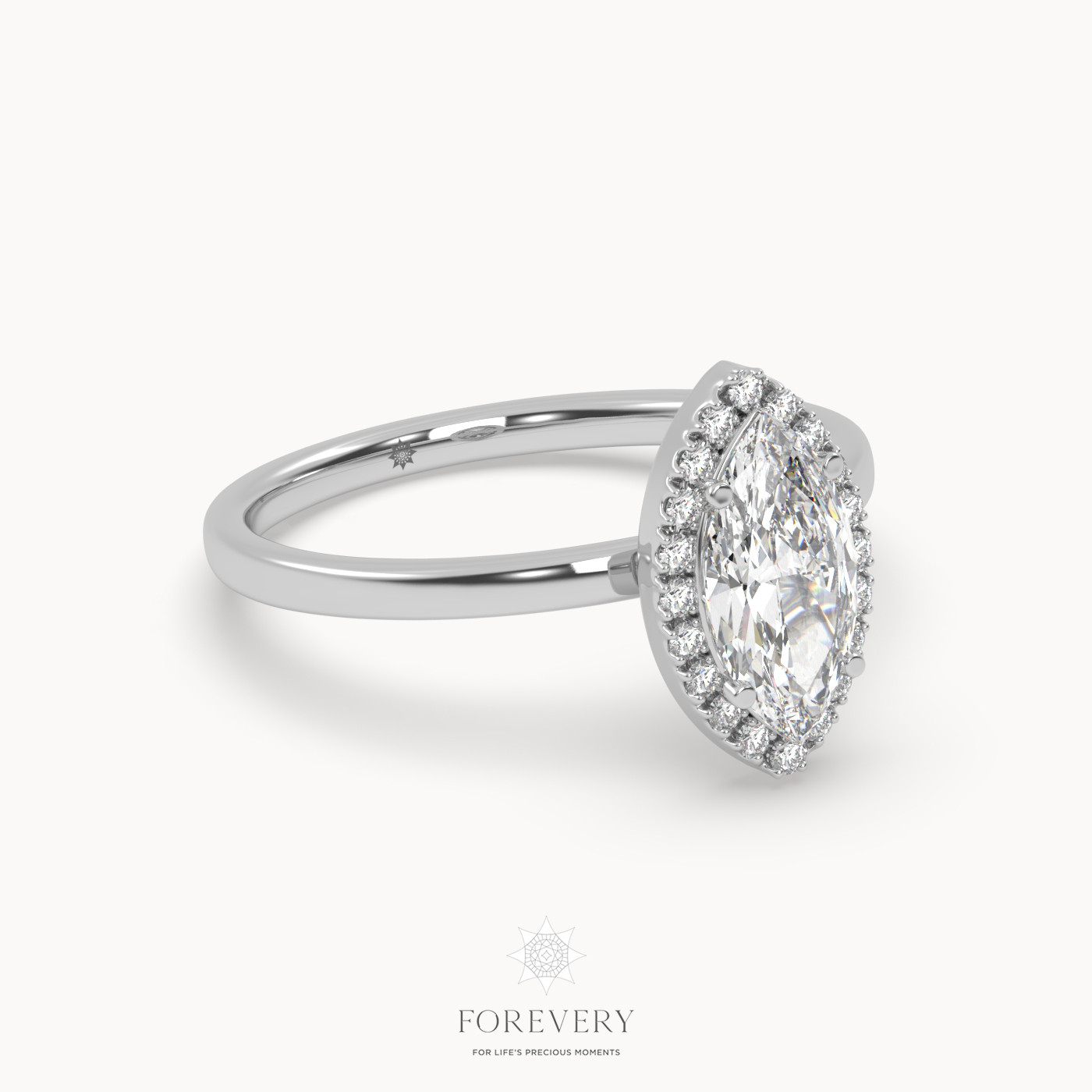 -25% OFF
PROMO
18K WHITE GOLD Marquise Diamond Elongated Halo Pave Engagement Ring
SKU:

FE-R-R-0038-WG-0.78CT
Ring Size
(choose your ring size)
Carat Weight
(Total carat weight)
Diamond Quality
(4CS of diamond)
D-E Color, VVS Clarity, EX Cut
€2,250.00

(Excl. VAT)
€3,000.00

Exclusive launch offer!
Free Diamond Studs on Orders Above 1299 Euros.

Free shipping, free 30 days return
Please Note : If the diamond is part of a diamond ring, the completed ring will ship according to the shipping date of the setting

order now and your order shipped by


Thursday , December 7
Product Description
Embrace sophistication with 18K Gold Marquise Diamond Elongated Halo Pave Engagement Ring. The elongated marquise diamond at the center is surrounded by a dazzling halo of smaller diamonds, adding to its brilliance and allure. The round shank provides a comfortable fit and complements the overall design. This ring exudes a sense of modern glamour and class, making it a perfect choice for a love that lasts a lifetime. Create an unforgettable moment when you propose with this stunning and luxurious engagement ring.
Diamond Rings Information
GOLD WEIGHT: 2.5 GRAMS
SETTING STYLE: MARQUISE DIAMONDS HALO RING
Stone Information
SHAPE: MARQUISE
TYPE: LAB-GROWN DIAMONDS
COLOUR: D-E
CLARITY: VVS
TOTAL CARAT WEIGHT : 0.78
Our Exclusive services
Our services
Other jewelry you'll love
FAQ ABOUT DIAMOND RINGS
There is no one-size-fits-all answer to this question, as the ideal carat weight for a diamond ring will vary depending on the individual's budget and preferences. However, a good starting point is to consider a diamond ring between 0.5 and 1.5 carats. This size range is considered to be both elegant and affordable.
The amount you spend on a diamond ring is ultimately up to you. However, it is important to set a budget before you start shopping. A good rule of thumb is to spend between two and three months' salary on a diamond ring.
Before you buy a diamond ring, it is important to do your research and understand the different factors that affect the price and quality of a diamond. These factors include the carat weight, cut, color, and clarity of the diamond.
A diamond ring is typically given as a symbol of engagement, while a wedding ring is worn on the wedding day. Diamond rings are often more expensive than wedding rings, and they may feature a larger diamond or a more elaborate setting.
The most popular diamond shapes for diamond rings are round, princess, cushion, oval, and emerald cut. Each shape has its own unique look and feel, so it is important to choose a shape that you love and that flatters your hand.
The most popular metals used in diamond rings are gold, platinum, and palladium. Gold is a classic choice that is known for its durability and beauty. Platinum is a more expensive metal, but it is also more durable and hypoallergenic. Palladium is a good compromise between gold and platinum, as it is both affordable and durable.
The 4Cs of diamonds are carat, cut, color, and clarity. These factors are used to grade diamonds and determine their value.
Carat: The weight of the diamond
Cut: The way the diamond is cut affects its brilliance and fire
Color: Diamonds range in color from colorless to brown. The more colorless a diamond is, the more valuable it is.
Clarity: Diamonds contain inclusions, which are tiny flaws in the stone. The fewer inclusions a diamond has, the more valuable it is.
The best way to find the right ring size is to have your finger sized by a professional jeweler. You can also measure your ring size at home using a ring sizer.
Pay attention to the kind of jewelry your partner usually wears. Do they prefer classic or trendy styles? Do they like yellow or white gold? Once you have a good idea of their style, you can start shopping for a ring.
Popular diamond ring styles today include solitaire rings, halo rings, three-stone rings, and vintage-inspired rings. Solitaire rings feature a single diamond, while halo rings feature a center diamond surrounded by smaller diamonds. Three-stone rings feature three diamonds in a row, while vintage-inspired rings feature intricate designs and unique details.
The average person spends around $3,000 on a diamond ring. However, the amount you spend is ultimately up to you and your budget.
In most cases, the groom buys the diamond ring for the bride. However, there are no hard and fast rules. Some couples choose to buy the ring together, while others choose to have the bride's parents or other family members help with the purchase.
There are many different places where you can hide a diamond ring before proposing. Some popular options include:
In a small box in your pocket
In a sock drawer
In a jewelry box
In a safe deposit box
In a friend's or family member's house
There are many different ways to propose to your partner. Some romantic proposal ideas include:
Proposing during a vacation
Proposing at a place that is special to both of you
Proposing during a picnic or dinner date
Proposing at home with candles and music
Proposing during a sporting event or concert
Lab grown diamonds are chemically and physically identical to natural diamonds, but they are created in a laboratory. Lab grown diamonds are typically more affordable than Real Diamond.
There are a few ways to make a ring more affordable:
Choose a less expensive metal, such as silver or palladium, instead of gold.
Choose a smaller carat weight or lower clarity grade.
Choose a less popular diamond shape, such as a marquise or pear shape.
Consider buying a lab-grown diamond instead of a natural diamond.
Ask your jeweler about any discounts or promotions they may be offering.
Yes, lab diamonds are a good option for engagement rings. They are chemically and optically identical to natural diamonds, but they are significantly less expensive. Lab diamonds are also a more sustainable option, as they are created in a controlled environment and do not require mining. Here are some of the benefits of choosing a lab-grown diamond for your engagement ring:
Cost: Lab-grown diamonds are typically 30-50% less expensive than natural diamonds of the same quality.
Sustainability: Lab-grown diamonds are a more sustainable option than natural diamonds, as they do not require mining.
Quality: Lab-grown diamonds are held to the same high standards of quality as natural diamonds.
Ethics: Lab-grown diamonds are not associated with the ethical concerns that can be associated with mined diamonds, such as child labor and environmental damage.
If you are looking for a beautiful, affordable, and sustainable engagement ring, a lab-grown diamond is a great option.
Show More