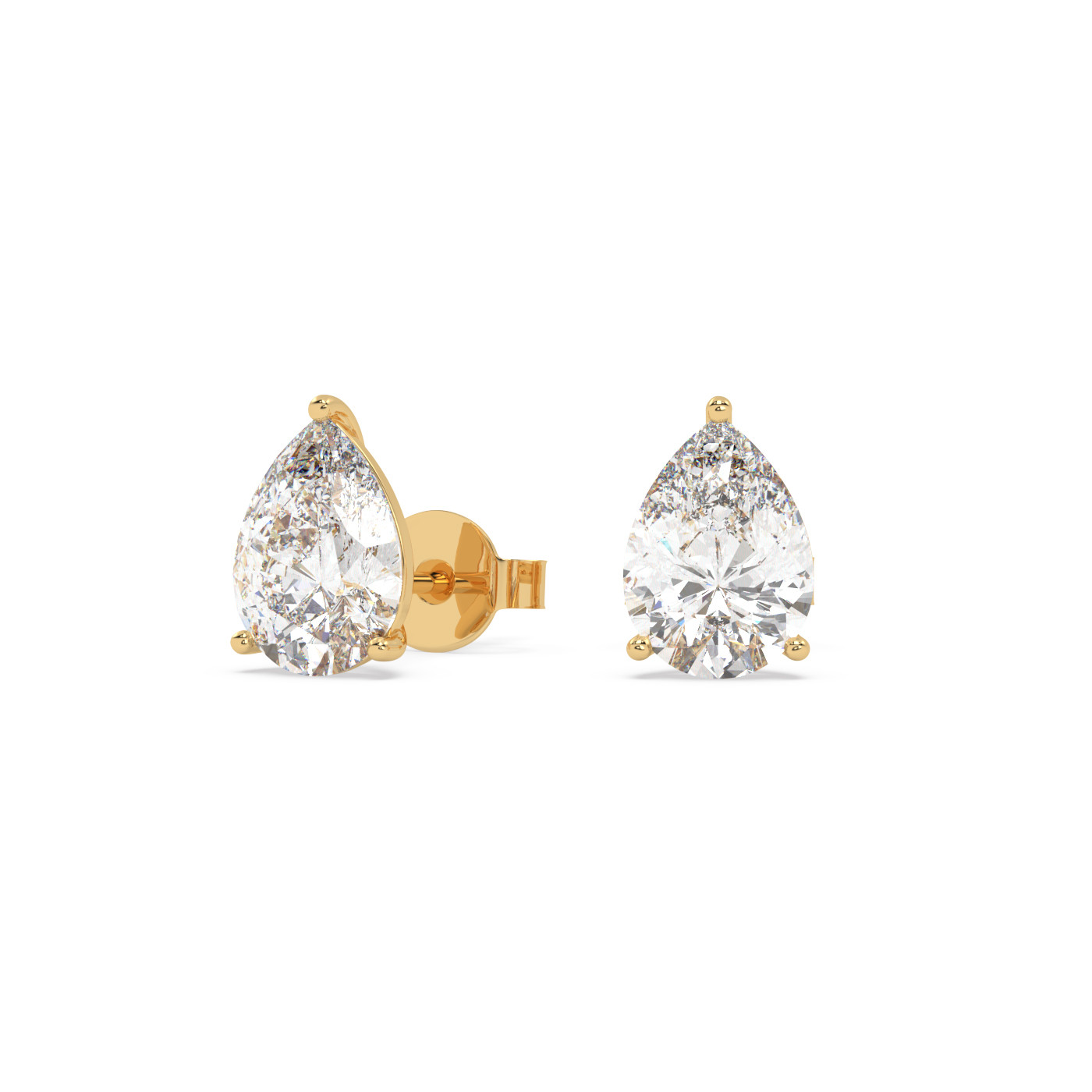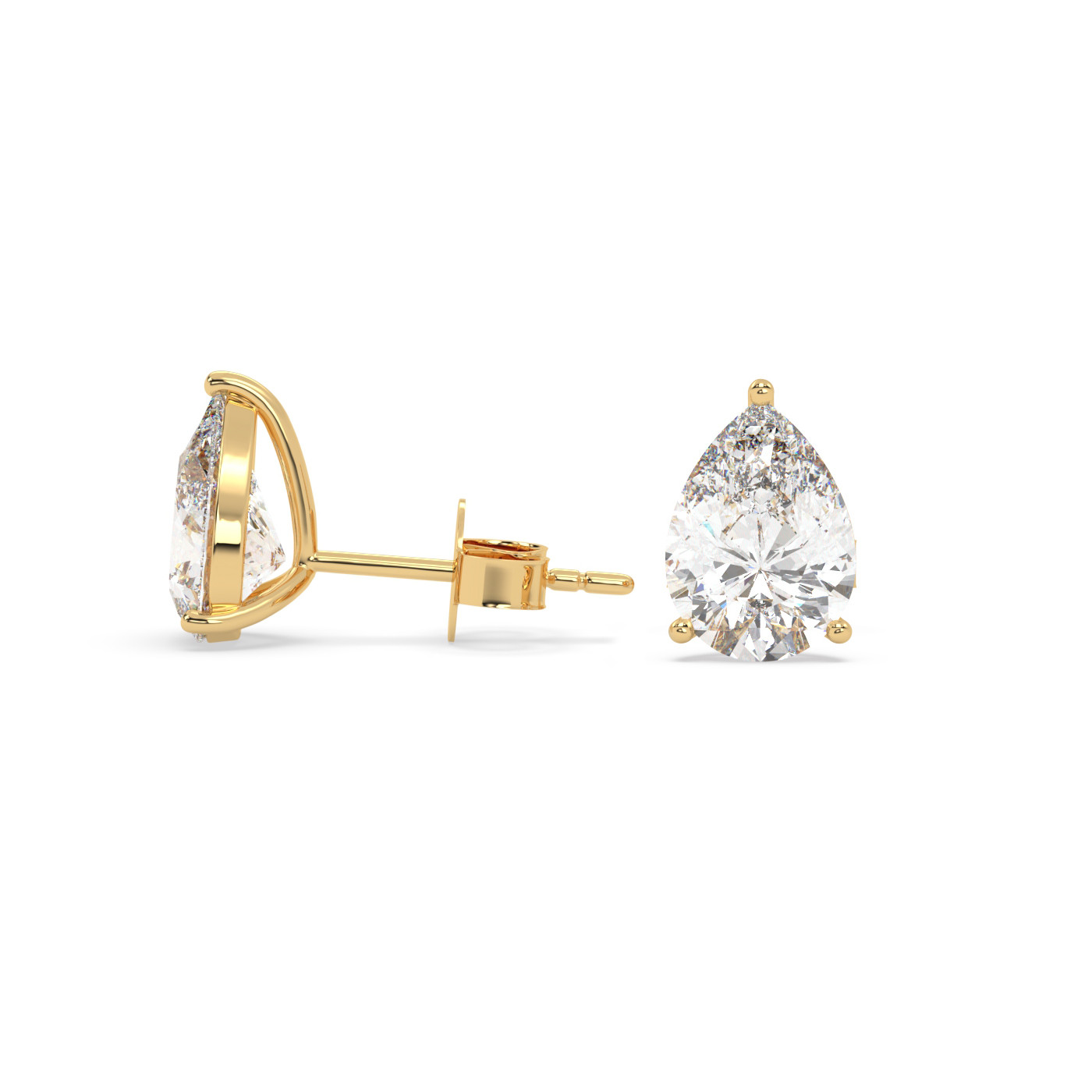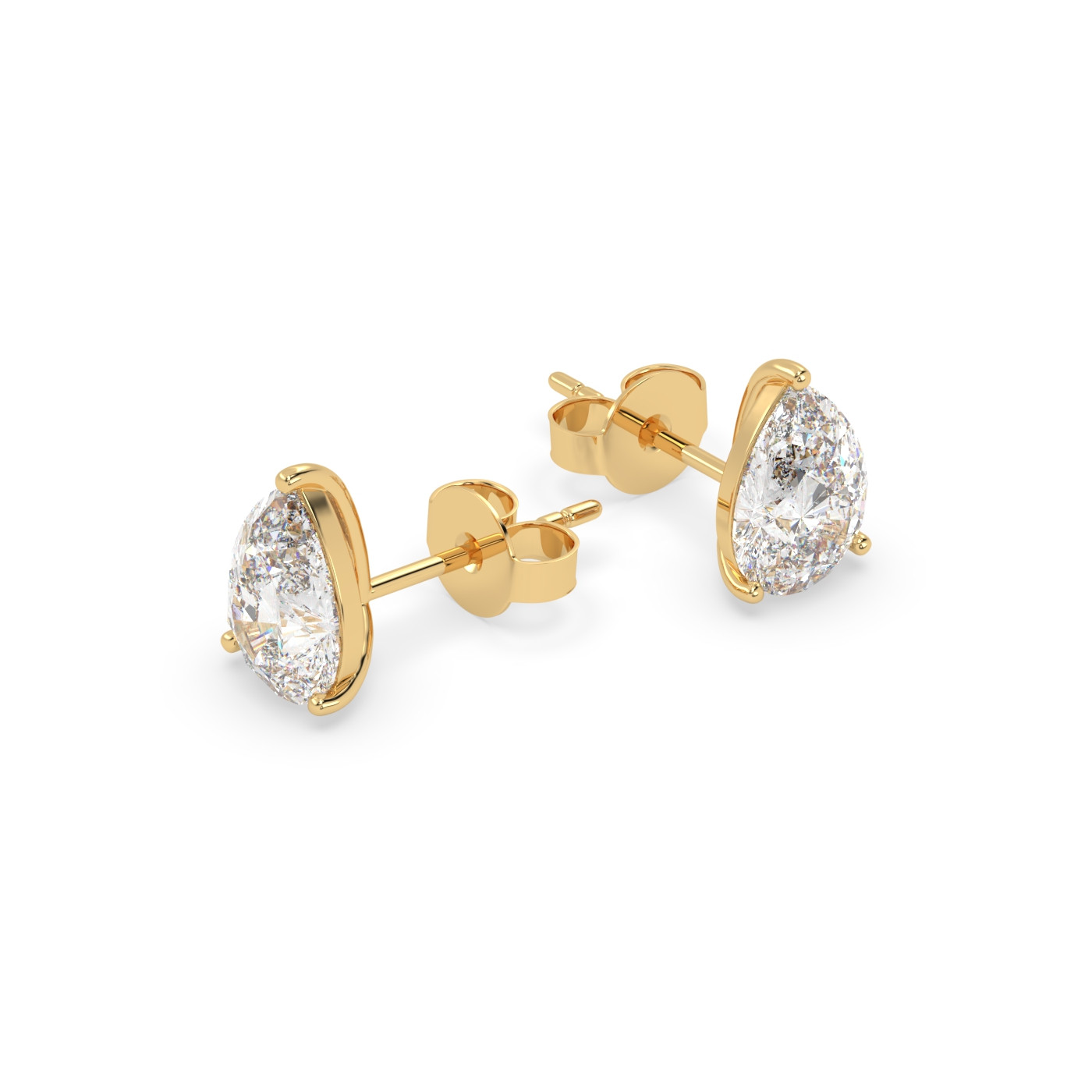 -14% OFF
PROMO
18K YELLOW GOLD 1.4 Carat Pear Stud Earrings with butterfly back
SKU:

FE-RS-0024-YG-0.7CT
Carat Weight
(Size of your center diamond)
D-E Color, VVS Clarity, EX Cut
€1,200.00

(Excl. VAT)
€1,400.00

Exclusive launch offer!
Free Diamond Studs on Orders Above 1299 Euros.

Free shipping, free 30 days return
Please Note : If the diamond is part of an earring, the completed earring will ship according to the shipping date of the setting

order now and your order shipped by


Thursday , December 7
Product Description
Discover timeless elegance with our Pear Diamond Cut Stud Earrings in 18K Gold. Whether for a second piercing or to add a touch of sophistication to your look, these earrings are a perfect choice. Designed with comfort in mind, they are gentle on sensitive ears. The butterfly back ensures a snug fit, making them a top pick for those who appreciate both style and comfort. Don't miss out; get yours today and embrace elegance.
Earrings Information
GOLD WEIGHT: 1.20 GRAMS APPROX.
Stone Information
SHAPE: PEAR
TYPE: LAB-GROWN DIAMONDS
COLOUR: D-E
CLARITY: VVS
CARAT WEIGHT : 0.7 Ct X 2 (1.4 TCW)
Our Exclusive services
Our services
Other jewelry you'll love
FAQ ABOUT EARRINGS
There are many different types of diamond earrings, including:
Studs are the most classic type of diamond earrings. They feature a single diamond on each earring.
Hoop earrings are circular or oval earrings that can be either small or large. They can be set with diamonds all the way around or just on the front.
Dangle earrings hang from the earlobe and often feature multiple diamonds.
Cluster earrings feature a group of diamonds clustered together.
Drop earrings feature a single diamond or a group of diamonds that hangs from the earlobe.
When choosing diamond earrings, there are a few factors to consider:
Your face shape can help you determine which style of diamond earrings will flatter you the most. For example, round faces look best with oval or dangling earrings, while square faces look best with pear-shaped or marquise earrings.
Your skin tone can also help you choose the right color of diamonds. For example, people with fair skin tones often look best with white diamonds, while people with darker skin tones often look best with yellow or champagne diamonds.
Consider your personal style when choosing diamond earrings. If you have a classic style, you may want to choose diamond studs or hoops. If you have a more trendy style, you may want to choose dangle or cluster earrings.
The 4Cs of diamonds are cut, color, clarity, and carat. These factors determine the quality and value of a diamond.
The cut of a diamond refers to the way it has been shaped and polished. A well-cut diamond will sparkle and shine more than a poorly cut diamond.
Clarity refers to the number and size of inclusions in a diamond. Inclusions are tiny flaws that can make a diamond look cloudy.
Carat is the unit of weight for diamonds. One carat is equal to 200 milligrams. Larger diamonds are more valuable than smaller diamonds.
Natural diamonds are formed under extreme pressure and heat deep within the earth. Lab-grown diamonds are created in a laboratory using a process that mimics the natural process of diamond formation.Natural and lab-grown diamonds have the same chemical composition and physical properties. However, lab-grown diamonds are typically less expensive than natural diamonds.
To keep your diamond earrings looking their best, it is important to clean and care for them regularly. Clean your diamond earrings with a mild soap and water solution. Avoid using harsh chemicals or abrasive cleaners on your diamond earrings. Store your diamond earrings in a soft cloth pouch or jewelry box to prevent them from getting scratched.
Yes, you can wear diamond earrings every day. However, it is important to take them off when showering, swimming, or doing any other activity that could damage them.
You should have your diamond earrings cleaned every few months, or more often if you wear them frequently.
If your diamond earring falls out, try to find it as soon as possible. If you cannot find it, take your other earring to a jeweler so they can create a replacement.
There are a few ways to tell if your diamond earrings are real. One way is to look at the hallmark. The hallmark is a stamp on the metal that indicates the purity of the metal. Another way to tell if your diamond earrings are real is to look at the diamonds themselves. Real diamonds will sparkle and shine more than fake diamonds.
If your diamond earring breaks, take it to a jeweler to see if it can be repaired. If the earring cannot be repaired, the jeweler may be able to create a replacement.
Show More