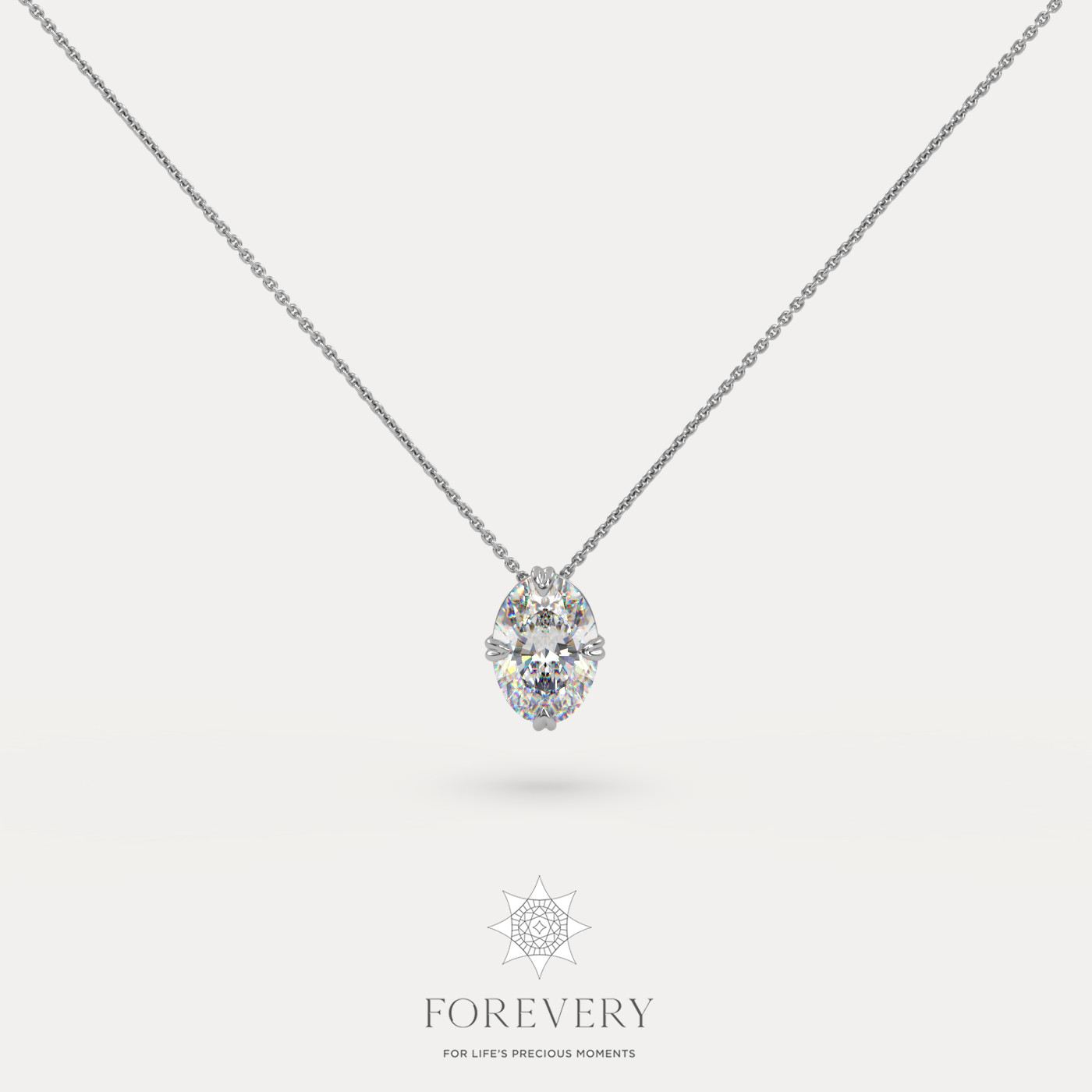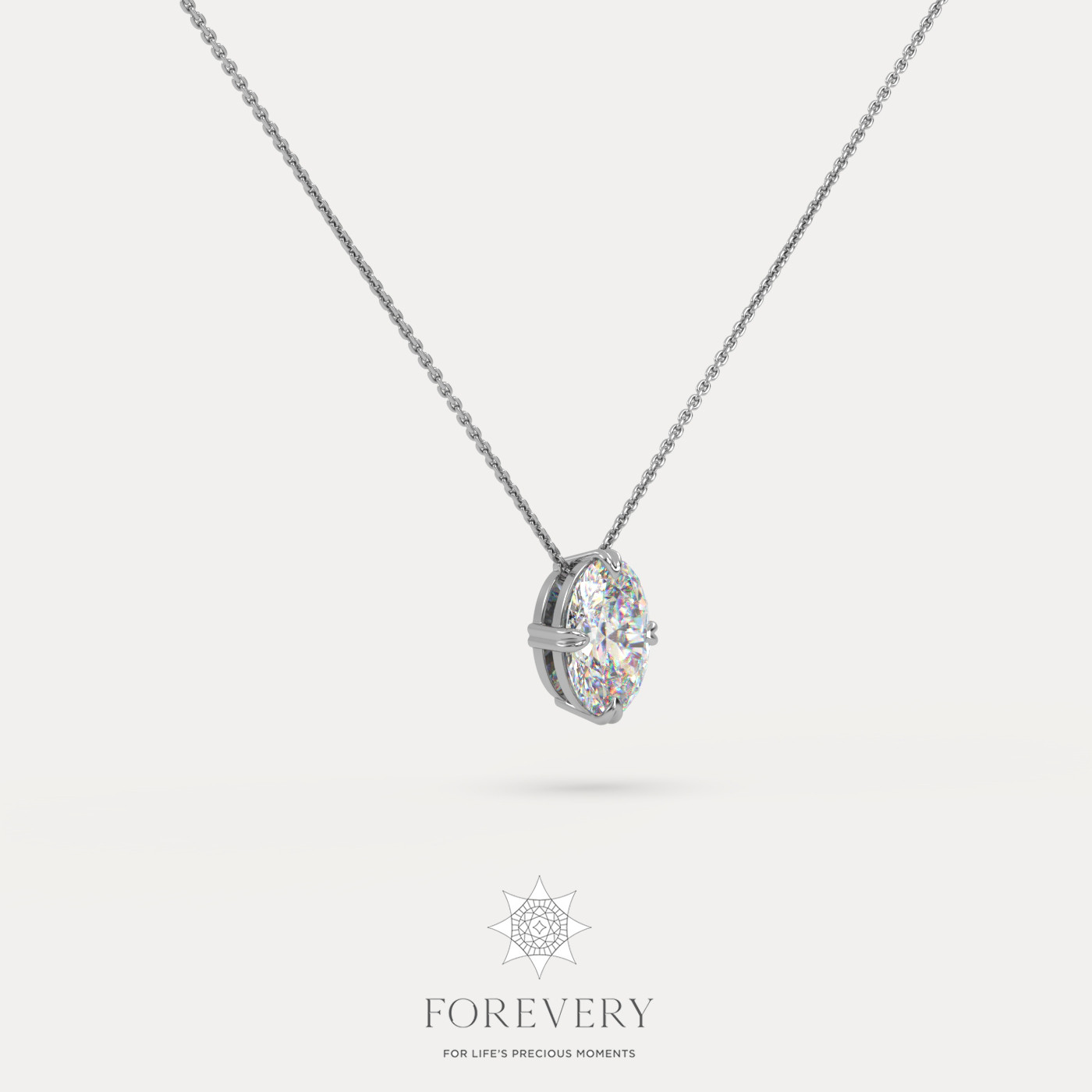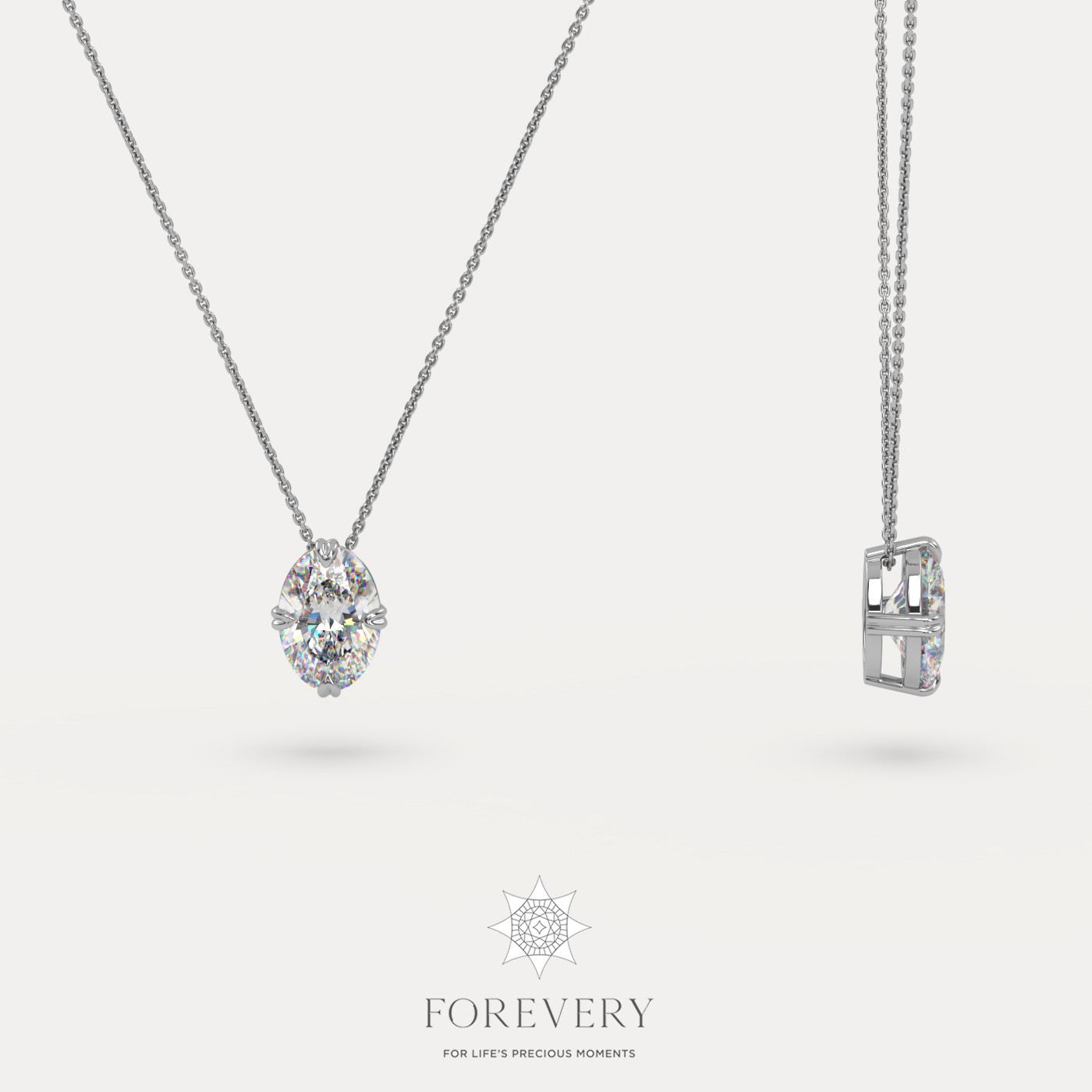 -20% OFF
PROMO
LOVE Collection Oval Cut Solitaire Diamond Pendant
SKU:

FE-0-333-WG-0.5CT
Carat Weight
(Size of your center diamond)
D-E Color, VVS Clarity, EX Cut
€1,200.00

(Excl. VAT)
€1,500.00

Exclusive launch offer!
Free Diamond Studs on Orders Above 1299 Euros.

Free shipping, free 30 days return
Please Note : If the diamond is part of a pendant, the completed pendant will ship according to the shipping date of the setting

order now and your order shipped by


Thursday , December 7
Product Description
Elevate your style with this stunning 18K Gold Oval Cut Solitaire Diamond Pendant. Featuring a brilliant oval-shaped lab-grown diamond held securely by four prongs, this pendant exudes Irresistible elegance. Surprise your loved one with this charming necklace and let it speak the words "I LOVE YOU." This pendant is a perfect expression of your love.
Pendants Information
GOLD WEIGHT: 2.25 GRAMS
SETTING STYLE: SOLITAIRE DIAMOND PENDANT
Stone Information
SHAPE: OVEL
TYPE: LAB-GROWN DIAMONDS
QUANTITY: 1
COLOUR: D-E
CLARITY: VVS
CARAT WEIGHT : 0.5
Our Exclusive services
Our services
Other jewelry you'll love
FAQ ABOUT PENDANTS
The best shape for a diamond pendant is a matter of personal preference, but some of the most popular options include round, princess, oval, pear, and cushion cuts. Round diamonds are the most popular overall because they have the most facets and therefore reflect the most light. Princess diamonds are also popular because they are more affordable than round diamonds and have a modern look. Oval and pear diamonds are elegant and unique choices, while cushion diamonds have a vintage feel.
Diamond pendants are often seen as a symbol of love, commitment, and luxury. They can be given as gifts for special occasions, such as engagements, weddings, and anniversaries. Diamond pendants can also be worn as a way to show off your personal style and taste.
The size of a diamond pendant that is right for you will depend on your personal preference and budget. Larger pendants are more noticeable and make a bolder statement, while smaller pendants are more delicate and understated. A good rule of thumb is to choose a pendant that is proportionate to your body size. For example, a smaller person may want to choose a smaller pendant, while a larger person may want to choose a larger pendant.
Round diamond pendants are often seen as a symbol of classic elegance and sophistication. They are also seen as a symbol of love and commitment, making them popular choices for engagement and wedding jewelry.
Yes, you can wear a diamond pendant all the time. Diamond pendants are durable and can withstand everyday wear and tear. However, it is important to clean your diamond pendant regularly to remove dirt and oils that can build up and dull its sparkle.
The best shape for a diamond pendant is a matter of personal preference. However, some shapes are more popular than others, such as:
Round diamonds are the most popular shape for diamond pendants because they are the most brilliant and have the most sparkle.
Princess diamonds are another popular choice for diamond pendants. They are a square or rectangular shape with sharp corners. Princess diamonds are less brilliant than round diamonds, but they are also less expensive.
Oval diamonds are a good choice for those who want the brilliance of a round diamond in a more unique shape. Oval diamonds also tend to look larger than round diamonds of the same carat weight.
Cushion diamonds are a square or rectangular shape with rounded corners. They have a romantic and vintage look.
Pear diamonds are a unique and eye-catching shape. They are tear-shaped with a pointed end and a rounded end.
When choosing a diamond pendant, it is important to consider the setting as well as the shape of the diamond. Some settings, such as halo settings, can enhance the brilliance of the diamond. Others, such as bezel settings, can protect the diamond and give it a more modern look.Ultimately, the best way to choose a diamond pendant is to try on different shapes and settings to see what you like best.
The length of a diamond pendant is a matter of personal preference. Some people prefer shorter pendants that sit close to the collarbone, while others prefer longer pendants that hang down further on the chest. A good rule of thumb is to choose a length that is flattering to your neckline and body type.
When buying a diamond pendant, there are a few things you should keep in mind:
Choose a shape that you love and that flatters your personal style.
The cut of a diamond is one of the most important factors in determining its brilliance and sparkle. Choose a well-cut diamond to get the most out of your investment
Diamonds come in a variety of colors, from colorless to yellow or brown. Choose a color that you find appealing and that complements your other jewelry.
Diamonds also come in a variety of clarity grades. Choose a diamond with a clarity grade that is good enough for you to see its natural beauty with the naked eye.
The carat weight of a diamond refers to its size. Choose a carat weight that fits your budget and that you like the look of.
Show More